Moving Naturally with Hypermobility - June 18th, 2015
Seminar summary & presentation links
On June 18th, 2015, we gave our first Moving Naturally with Hypermobility Seminar. This seminar was put together as a partnership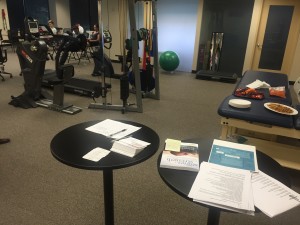 between myself and two local DPTs, Chris Gnip and Victor Chang. Chris is someone I have personally been working with, after trying to find a PT who really did understand EDS and how to work with Hypermobile patients. To my surprise, Chris did understand and he'd actually been working with Dr. Pocinki to learn more. Chris had the idea of putting together seminars for both patients and healthcare practitioners and he asked that both Victor and I participate. Because both Victor and Chris are hypermobile themselves and both recognize the shortcomings of most traditional physical therapy approaches for patients with hypermobility syndromes, they are passionate about helping patients with all types of Ehlers-Danlos Syndromes.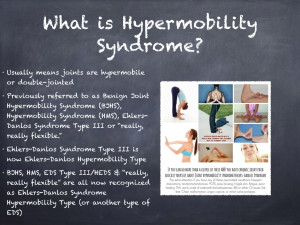 Overall, it was clear that seminars like the one we put together are greatly needed. However, our seminar went a bit long, we were not sure of the level of general knowledge of those who came, or who had even been diagnosed with Ehlers-Danlos Syndrome. Pretty typical growing pains for a new endeavour.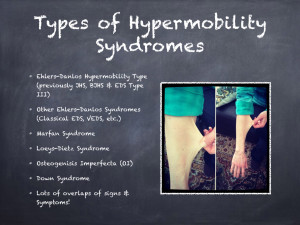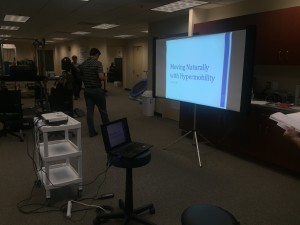 Each person had some level interest in movement and hypermobility, but what each person was expecting to learn or gain was also unknown to us. First, it was imperative to give an overview on Hypermobility Syndrome and how that related to Ehlers-Danlos Hypermobility Type -- that's a lot to digest for someone new, or can be repetitive for those already diagnosed.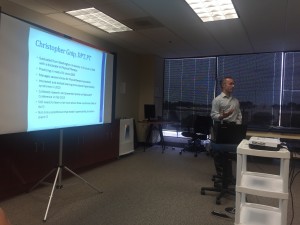 Chris covered the basics of EDS with a few side bars from me, Victor covered how to approach daily activity & physiotherapy when you are hypermobile and I wrapped it all together with additional information, some of the latest research and resources.
Feedback afterwards was great. All three of us have all already started working with various patients who attended our seminar and we will be planning more in the future. Our plan is to break each seminar down into different areas of interest associated with physical therapy and overall knowledge on EDS and expand from there.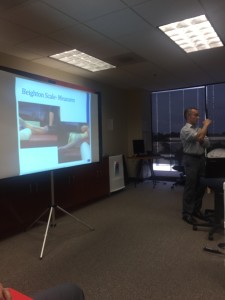 We met some incredible people and appreciate everyone who came out to our first seminar. All three of our presentations are linked below.

We are already planning a seminar in September and Kendra is working on Wellapalooza 2015 - an integrative health conference that incorporates EDS, MCAD and related conditions all together. To read details on Wellapalooza, go to SFHEDS.com and sign-up to recieve event updates. Wellapalooza will be held in Bethesda, MD and sign-ups will be available soon.
Link to this post on our website is available here.

To stay updated on future seminars and find additional PT and exercise resources, you can visit our website: www.movingnaturallywithhypermobility.com.
Seminar announcements will be made on this website as well.
Chris's Presentation - Moving with Hypermobility
Victor's Presentation - Moving Naturally with Hypermobility copy
Kendra's presentation - Moving Naturally with Hypermobility 2015 June Pres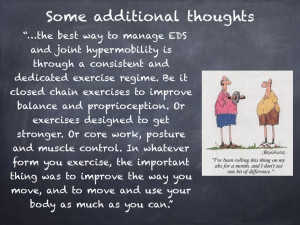 Any questions can be emailed to me: kendra@edspatientsolutions.com.