Cement Floor Tiles Exude Exotic Flair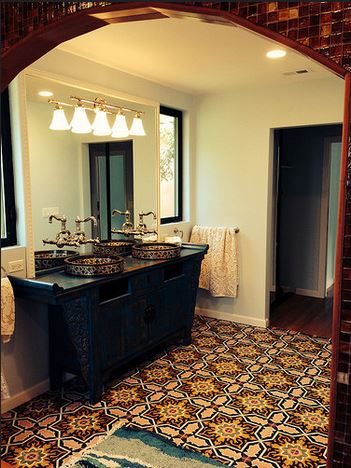 Melilla Cement Tile transforms a master bath.
The use of traditional cement tile rugs, combined with full pattern flooring and contemporary mosaic wall tile, is indicative of how well cement tile can adapt and work with just about any style, theme or decor.
Recently, our client completed their master bathroom remodel. With a desire to create something with a Bohemian, eclectic flair, they knew cement tile would play a great role in their design plans. Together with our patterned Melilla cement tile, solid color cement tiles, as well as mosaic tiles, they were able to create an energetic design that is sure to remain timeless.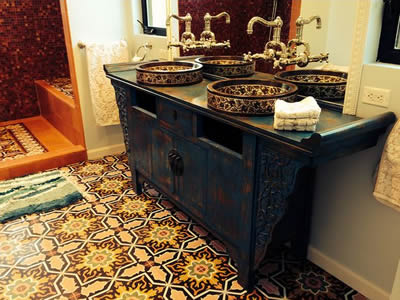 Rich tile patterns in warm tones play off the cool blue patina of the vanity.

Patterned and plain cement tile combine effortlessly with mosaic tiles.
Further, you'll notice that the patterned cement floor tiles run to the edge of the master bath. You'll also notice a traditional cement tile rug in the shower. Both are paired with terracotta-colored cement tile and small-format mosaic wall tile. Mixing up design styles and techniques really create a cohesive design here because the color palette flows together flawlessly.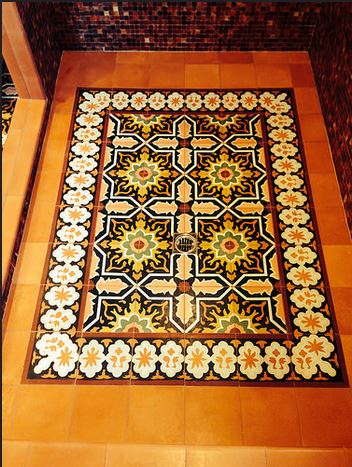 Cement Tile Rug
The Traditional Melilla pattern in our standard catalog colorway has a dizzying array of colors that can make it difficult to work with.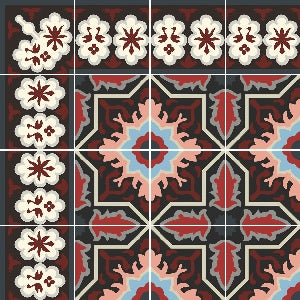 Traditional Melilla Cement Tile pattern
However, that is also what makes it so bold and exciting when combined with the right color choices. You can view the variety of colors available within the Heritage Cement Tile Palette here.
Get Inspired!
See More Cement Tile Design Ideas



Lastly, designing with cement tile means taking a vision, idea or surrounding complementary area, and making it all come to life. For ideas and visual inspiration on how cement tiles can enhance any room or setting, visit our page on houzz.com, see what we've been pinning onto the Avente Tile Pinterest boards, and browse through dozens of our Cement Tile Design Ideas. We are also now on Instagram! Tag us in your cement tile design posts, and we'll make sure to regram it! You can also see the extensive process of creating individual handmade cement tiles in our YouTube videos. >


"There is a harmony in autumn, and a luster in its sky, which through the summer is not heard or seen, as if it could not be, as if it had not been!"
-- Percy Bysshe Shelley
With each season, an excitement for the change is apparent. As we greet October and the upcoming holiday season, we too are excited for what new paths will come our way. Without hesitation, Autumn is the one season where transformation defines nature.
Speaking of transformation, we hope you've been enjoying our tile- and design-centric blog posts on the Avente Tile website. Now, everything (including our e-newsletters) can be accessed quickly and efficiently. Stay tuned for more modifications in the coming weeks and months, as we too begin a transformation!
Lastly, for whichever type of project you choose, know that Avente Tile is here to help you reach your design goal. Our extensive Cement Tile Design Ideas gallery features a large collection of projects dedicated to adding excitement in any space. How can we help inspire you today?
Get Inspired!
See More Cement Tile Design Ideas