Hexagon Cement Tiles Lend to Neighborhood's Historic Look, Feel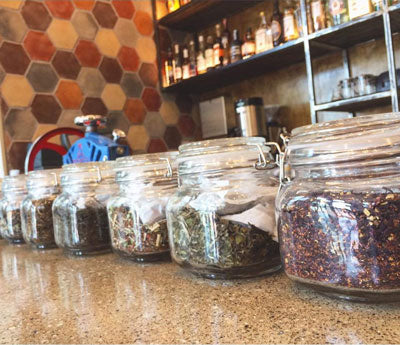 The Royal eatery, situated in a historic Washington, D.C. area, features Avente Tile's Hexagon collection of handmade Arabesque cement tiles.
Arabesque is a unique line of Spanish floor tiles or pavers. The collection pays homage to a deeply rooted and rich heritage of traditional Moorish and Spanish tiles that feature interlaced geometric patterns. Each tile is hand-crafted and exquisitely designed here in the USA. Available in traditional bisque colors as well as softer, contemporary shades, these cement Spanish Floor Tiles, with their nuanced curves and classic shapes, are sure to enhance any setting where they are used.
In the case of The Royal eatery, located in Washington, DC's historic LeDroit Park neighborhood, the accent wall by the bar features 200 sq. ft. of 8" hexagon in a hand-selected blend of the following colors: Mission Red, City Hall Red, Cotto Dark, Cotto Gold, Natural Gray, Antik Gray, Hacienda, Hacienda Flash. Designer Lucia Windsor Freeman of aggregate architecture+design captured the look and feel of the neighborhood's ambiance and historical perspective with the materials she chose and specified.
Moreover, the geometric theme of this split-level, 45-seat gathering place was carried through to the restrooms where 90 square feet of 8-inch Hexagon tiles were used for the women's restroom in a color blend featuring City Hall Red, Hacienda, and Cotto Gold.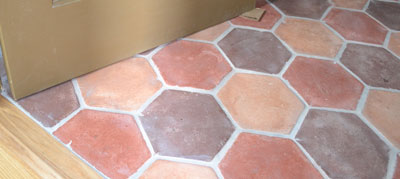 8" Hexagon Cement Tiles used in the Women's Restroom
For the men's restroom, 90 square feet of 8-inch Hexagon tiles were used as well, but with a gray color palette featuring a blend of Antik Gray, Smoke, and Sidewalk Gray. With its wide variety of colors and formats, the Arabesque collection of handmade cement tiles can fulfill any design or décor need. Also, because they are freeze/thaw rated, the indoor and outdoor possibilities are nearly endless!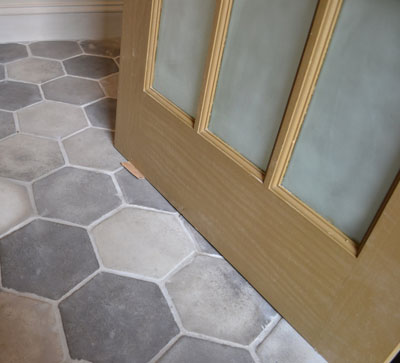 8" Hexagon Cement Tiles used in the Men's Restroom
The Royal serves as a coffee shop and lunch spot by day, and as an intimate bar and casual eatery by night. With its simple yet creative fare, this second project from restaurateur Paul Carlson, has been open since late spring 2015. The restaurant's concept combines Carlson's international background together with his love of cooking, good drinks, and spending time with family and friends.
Lastly, for visual inspiration on how cement tiles can enhance any room or setting, visit us on houzz.com; see what we've been pinning onto the Avente Tile Pinterest boards; browse through dozens of our Cement Tile Design Ideas; and visit our recently launched Instagram page! You might also like to view the extensive process of creating individual handmade cement tiles by watching our YouTube videos.
For additional purchasing, design and installation tips and recommendations using hexagon tiles, read Avente's Hexagon Cement Tile Buying Guide.
"Every time you tear a leaf off a calendar, you present a new place for new ideas and progress."
— Charles Kettering, American inventor
We hope you enjoyed the holiday festivities as much as we did. Each year, as schedules get busier with expanded obligations, we remain resolved and continuously motivated in bringing you creative design and décor ideas for residential, business or commercial projects you may be working on.
As your partner in offering only the best in handmade cement and hand-painted ceramic tiles, we will always be here to bring your design plans to fruition. With are little planning and our design know-how, we are committed to helping you save valuable time and effort in the search for the perfect pattern, color and format of tile.
From all of us at Avente Tile, we wish you a happy, healthy New Year!