Cuban Cement Tile Plays Historic Role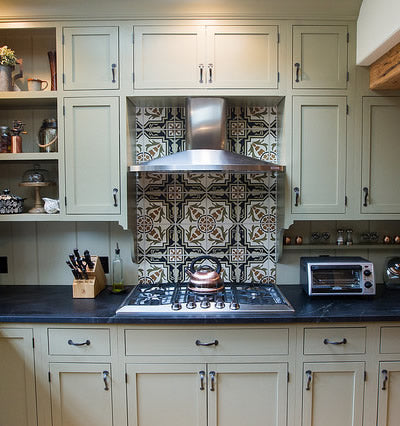 Cuban Heritage cement tiles in a colonial-era remodel.
Photo Credit: Cydney Scott -
www.cydneyscott.com
Cuban cement tile is a popular choice for a kitchen backsplash, wall or wainscot because the tiles add color, pattern, and the appearance of texture or movement. With their versatility also comes customization. It's because of this trait that our client chose to specify Cuban Heritage tiles for her restoration project.
Donna Hochberg completed a remodel of a 1790 post-and-beam Federal style home in North Reading, MA. She says, "I purchased cement tiles from you. The tiles have become the centerpiece of my kitchen remodel. It was a pleasure working with you on this project and I hope to have some other projects in the future!"
Using two custom colorways, Donna choose a color palette that matched her home and taste. She used the Cuban cement tiles for the kitchen backsplash and as an accent wall behind a heating stove. The kitchen backsplash in one colorway utilizes only the cross pattern; the wall feature behind the stove, in a different colorway, uses the alternating quarter design pattern. With the renderings that Avente Tile created, based on Donna's color choices, she was to visualize the pattern before strike-off samples or a full order was placed.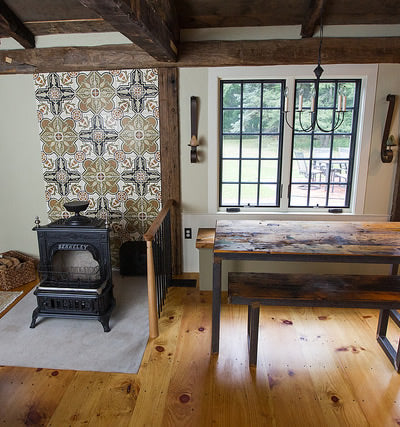 Donna Hochberg's kitchen remodel used Cuban Heritage cement tiles in a custom colorway not only for her kitchen, but also as a focal point for the dining room. Photo Credit: Cydney Scott - www.cydneyscott.com
Obviously, Cuban cement tiles are an excellent way to add color and pattern to a commercial space or home. Originally designed as a durable decorative flooring choice, they have increasingly become more popular as a feature wall for a kitchen backsplash. The most popular pattern and colorway in the Cuban Heritage Collection is Design 110-2B. The motif consists of two quarter design patterns on 8-inch square tiles: a medallion and cross. The pattern is very fluid and the cross and medallion alternate in checkerboard-fashion. However, both the cross and medallion can be used separately for a very different effect. Although we stock three colorways in this pattern, it's popular to customize the colors for a truly personal and unique touch.
Happily, the remodel of Donna Hochberg's home was featured in The Boston Globe. It's a fascinating read and provides details about the design choices she and the architect faced. Read the complete article, "Restoring an 18th-Century North Reading Home" for additional details and the full story.
Lastly, for visual inspiration on how cement tiles can enhance any room or setting, visit us on houzz.com; see what we've been pinning onto the Avente Tile Pinterest boards; browse through dozens of our Cement Tile Design Ideas; and visit our recently launched Instagram page! You might also like to view the extensive process of creating individual handmade cement tiles by watching our YouTube videos.
"We cling to our own point of view, as though everything depended on it. Yet our opinions have no permanence; like autumn and winter, they gradually pass away."
Zhuangzi, Chinese philosopher
Now that Thanksgiving is over, the frenzy of shopping and cooking for the winter holidays begins. Aside from feeling overwhelmed, these celebrations happily rejuvenate the feelings of warmth that only a gathering of family and friends can offer. The seasonal transformation is certainly in full swing!
Speaking of transformation, we hope youve been enjoying our tile- and design-centric blog posts on the new Avente Tile location. Now everything (including our enewsletters) can be accessed quickly and efficiently. Stay tuned for more modifications in the coming weeks and months as we continue to transform!
From all of us at Avente Tile, we wish you and yours a happy, healthy holiday season!
Year End Cement Tile Sale
Celebrate the season and all year long with encaustic cement tile. Our
Year End Cement Tile Sale
takes one of our favorite patterns, Traditional Neiba, and offers it in four new, exciting colorways. All four colorways are in stock for quick shipping and on sale right now! This special cement tile sale won't last long. Don't delay it's not everyday you get great cement tile, at a great price, shipped right away!
Neiba B in Heritage White and Ash Grey
Neiba C in Heritage White and Jet Black
Neiba D in Heritage White, Pearl Gray, Autumn Eve & Green Stone
Neiba E in Heritage White, Autumn Eve & Sandy Brown