Table of Contents:
REMINDER: August 28th Application Deadline for Medicaid/Medicare Provider Relief Funds
CDS Reopening Plan Reminders
NADSP: Praise to Promise – National DSP Recognition Week
Pritzker Administration Extends Deadline to Apply for Emergency Rental Assistance
New COVID-19 Mitigation Measures for Metro East
CMS Approves Waiver Amendment – IDHS- DDD Draft Information Bulletin
CDC Publishes Study on Mental Health, Substance Use, and Suicidal Ideation During Pandemic
Vote Yes For Fair Tax Organizational Sign-On
Congressional Stalemate Pushes Action into Late September
Federal CMS: Enforcement Cases Held during the Prioritization Period and Revised Survey Prioritization
Are You Interested in Serving as an Integrated Health Home?
IARF BH COVID Billing Relief Extension & Telehealth Utilization Survey
DSP Magnet Online Workshop for IARF Members Next Week
ICDD Listening Sessions
Illinois ABLE Webinar: Managing your IL ABLE Account
---
REMINDER: AUGUST 28TH APPLICATION DEADLINE FOR MEDICAID/MEDICARE PROVIDER RELIEF FUNDS
We want to remind members that the deadline is quickly approaching to apply for General Distribution Portal funds allocated in the CARES Act. Providers that were prohibited from applying through the Medicaid & CHIP Portal due to a previous small Medicare payment are encouraged to re-apply through this portal. Providers are eligible for up to 2% of gross patient revenues as a one time revenue source! Don't leave funding on the table!! (Contact: Josh Evans)

CDS REOPENING PLAN REMINDERS
CDS reopening is scheduled to begin September 1st. Providers must submit a completed self-assessment tool, after all sections have been completed, to DHS.BQM@illinois.gov. The self-assessment submitted should contain enough information to support an understanding of the actions taken by the provider to prepare for the opening. If the assessment refers to a facility Preparedness Plan, or other policies, those should be submitted as well. The Bureau of Quality Management may request additional documentation if there is a need for clarification. All individuals must have an Individual Benefit/Risk assessment (or similar) completed prior to return to determine appropriateness for return to CDS and this assessment should be on file for review. (Contact: Beth Owens)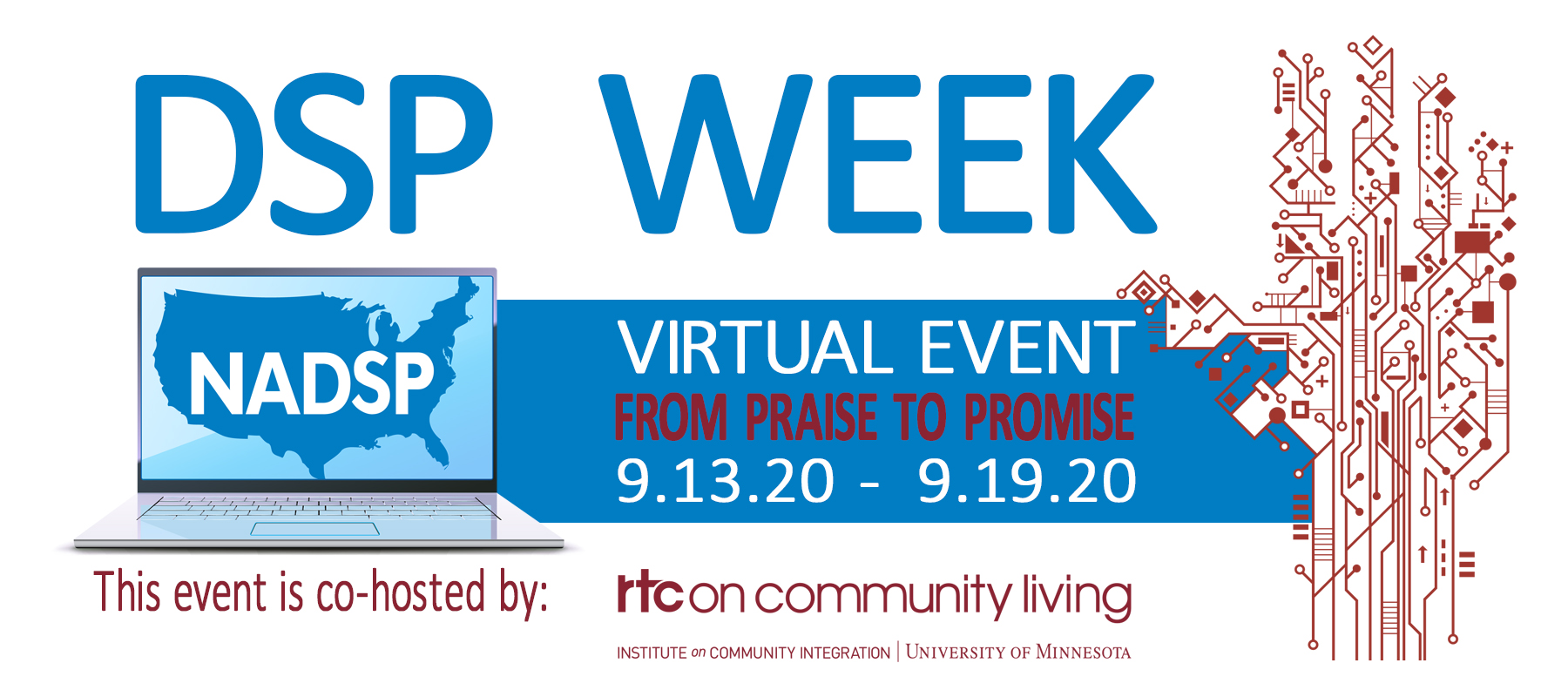 NADSP: PRAISE TO PROMISE – NATIONAL DSP RECOGNITION WEEK
IARF is pleased to sponsor and promote the upcoming virtual series by NADSP – Praise to Promise - which will offer "a mix of recognition and gratitude for DSPs, along with concrete steps and proven best practices that can be implemented across the human services field. This has the potential to elevate the status of DSPs, involving how they're acknowledged, empowered, and supported."

The virtual event will run the length of National DSP Recognition Week – from September 13th - 19th. We encourage members to check out the sessions and register staff! (Contact: Josh Evans)

PRITZKER ADMINSTRATION EXTENDS DEADLINE TO APPLY FOR EMERGENCY RENTAL ASSISTANCE
Governor Pritzker has announced the Illinois Housing Development Authority (IHDA) has extended the deadline for Illinois renters to apply for aid by one week to 12:00 p.m. on August 28th due to those impacted by the storms last Monday. In addition, landlords will be given an additional two days, through August 30th, to complete their portion of the application. The Emergency Rental Assistance program provides $5,000 to eligible tenants who have seen their household income decline as a result of the COVID-19.

Renters affected by the storms, or those requiring assistance navigating the application process, are encouraged to reach out to one of the 62 Community and Outreach Assistance organizations with which IHDA has partnered. These organizations can be found on the 'resources' page at era.ihda.org. For additional help, applicants may also contact IHDA's call center at: (312) 883-2720, or toll-free at: (888) 252-1119. For those who are deaf, hard of hearing or speech-impaired, please contact Navicore Solutions for free assistance at: (877) 274-4309 (TTY).

Extension of the ERA program will not affect or delay the launch of the Emergency Mortgage Assistance program on August 24, 2020. (Contact: Dan Frey)

NEW COVID-19 MITIGATION EFFORTS FOR METRO EAST
Governor Pritzker and the Illinois Department of Public Health (IDPH) announced new measures to help slow the spread of COVID-19 in the Metro East area effective 8/18/2020. The decision comes as Region 4 is now reporting three consecutive days of a 8% or higher test positivity rate. Region 4 includes Bond, Clinton, Madison, Monroe, Randolph, St. Clair and Washington counties. For more information on the mitigation efforts please see the following LINK.

IDPH has clarified that CDS providers in Region 4 are not required to make changes to their operations in response to the mitigations announced this week. It is important to note that in Region 4, ICF/DD residents will not be allowed to attend CDS programs. IDHS- DDD is currently reviewing options available to support providers. (Contact: Luis Andrade)

CMS APPROVES WAIVER AMENDMENT - IDHS-DDD INFORMATION BULLETIN
IDHS- DDD has announced approval from Federal CMS of the waiver amendment to adjust wages in the rate methodology by $1.00 per hour effective July 1, 2020 and $.50 per hour effective January 1, 2021. A Draft Information Bulletin has been released providing further information on these rate increase for FY2021. There is no additional information to date from CMS on the ICF/DD State Plan Amendment at this time. (Contact: Beth Owens)

CDC PUBLISHES STUDY ON MENTAL HEALTH, SUBSTANCE USE, AND SUICIDAL IDEATION DURING PANDEMIC
The CDC has published a study detailing how the COVID-19 pandemic has been associated with mental health challenges related to the morbidity and mortality caused by the disease and to mitigation activities, including the impact of physical distancing and stay-at-home orders. Symptoms of anxiety disorder and depressive disorder increased considerably in the United States during April–June of 2020, compared with the same period in 2019. To read the entire study, click here. (Contact: Dan Frey)

VOTE YES FOR FAIR TAX ORGANIZATIONAL SIGN-ON
As you all know, IARF last December unanimously passed a resolution to support the Illinois Fair Tax initiative. As a part of that initiative, IARF has been participating in the Vote Yes for Fair Tax and Vote Yes for Fairness committees.

Vote Yes for Fair Tax has requested that organizations who support the passage of the Fair Tax constitutional amendment in November sign on to formally list their support. You can do so by clicking here. (Contact: Dan Frey)

CONGRESSIONAL STALEMATE PUSHES ACTION INTO LATE SEPTEMBER
Earlier this Summer we were very optimistic that the pressures facing public health systems, states, and local governments would bring Congress together again to pass an agreed fourth COVID-19 relief package. As things stand today, it is quite evident that polling and election politics have driven Republicans and Democrats farther apart in terms of reaching a compromise relief package.

With the federal fiscal year ending next month, the next *possible* opportunity to pass a relief package is mid-to-late September attached to a federal budget continuing resolution. However, with the pandemic numbers, the status of the economy, etc. it is increasingly likely that Democrats won't seek to compromise on a large relief package until after the election. As members are aware, Illinois' FY21 budget relies on borrowing from the federal reserve, and using expected Congressional relief to pay back that borrowing. If the relief doesn't come through, we will see GOMB and state agencies take steps to try and limit spending.

Our role - post Labor Day – will be to do our part to ensure Congress is well aware of their primary obligations to reach agreement on a relief package that supports community-based services and supports, state, and local governments, politics should come as a distant second. (Contact: Josh Evans)

FEDERAL CMS MEMO: ENFORCEMENT CASES HELD DURING THE PRIORITIZATION PERIOD AND REVISED SURVEY PRIORITIZATION
Federal CMS recently released the following Memo that may impact ICF/MR. CMS is committed to taking critical steps to ensure America's health care facilities continue to be prepared in response to the threat of the 2019 Coronavirus Disease (COVID-19). CMS is revising guidance on the expansion of survey activities to authorize onsite revisits and other survey types. CMS is providing guidance to State Survey Agencies (SAs) on resolving enforcement cases: CMS is providing guidance on resolving enforcement cases that were previously directed to be held, and providing guidance on Civil Money Penalty (CMP) collection. CMS is also issuing updated guidance for the re-prioritization of routine SA Clinical Laboratory Improvement Amendments (CLIA) survey activities, subject to the SA's discretion, in addition to lifting the restriction on processing CLIA enforcement actions, and issuing the Statement of Deficiencies and Plan of Correction (Form CMS-2567). (Contact: Luis Andrade)

ARE YOU INTERESTED IN SERVING AS AN INTEGRATED HEALTH HOME?
With the launch of the Integrated Health Home (IHH) now pushed back to January 1, 2021, there are ways to begin the process of becoming an IHH ahead of more specific information or criteria becoming available. If you are interested in serving as an IHH, please let the Illinois Association of Medicaid Health Plans (IAMHP) know and they will send that information on to the Medicaid health plans.

Complete the IHH Submission Form and IAMHP will send at least a weekly report to the plans with your information. (Contact: Dan Frey)

IARF BH COVID BILLING RELIEF EXTENSION & TELEHEALTH UTILIZATION SURVEY
IARF is attempting to ascertain the level of decline in billing for the codes that received COVID relief dollars from the MCOs for March 8 - June 30. Answers are being sought to questions as they relate to the codes that received the COVID relief rate increase. This will allow IARF to present an accurate accounting of our members' losses during the pandemic, and advocate more effectively for an extension of this rate increase.

Additionally, the state is encouraging providers to conduct a migration of services to telehealth for the remainder of the public health crisis, and legislation is in development to make these changes permanent. It is believed that an increase in telehealth utilization will correspond with more stable claims and billing. You view and complete the survey by clicking here. (Contact: Dan Frey)

DSP MAGNET ONLINE WORKSHOP FOR IARF MEMBERS
Next week, Tuesday, August 25th and Wednesday, August 26th IARF is hosting a members-only workshop, DSP Magnet Online Workshop. This two-part, interactive workshop delivers immediate help with recruitment, retention, and culture. During the workshop, attendees will get:
Simple tools to take back to their organizations to quick take action on what they've learned.
Clear next steps on how to rewrite their DSP job post so they can attract more applicants.
A map of the first few days on the job through the new employee's eyes. Attendees will have clear and simple next steps to improve the experience for new employees.
This workshop is
provided free of charge for IARF Members
and login is required for registration. There a just a few spots left; register today to reserve your seat.
Click here
to learn more and register! (Contact: Maggie Henley)
ICDD LISTENING SESSIONS
The Illinois Council on Developmental Disabilities (ICDD) is looking closely at Illinois and the needs of every person with a developmental disability to be able to live a healthy and happy life in their community. ICDD is looking ahead to what should be in their next 5-YSP which begins in the fall of 2021. In addition to an online public survey, ICDD is hosting a series of input sessions with various stakeholder groups. IL Provider agencies are invited to
register
to join ICDD for an input session specifically for providers! You can register
here
. (Contact: Beth Owens)
Date & Time: October 15, 2020, 10am
Duration: 1hr 15 mins
Facilitators:
ICDD Lead: Mariel Hamer, Associate Director of Program & Policy, Illinois Council on Developmental Disabilities
UIC Lead: Caitlin Crabb, Research Specialist, Institute on Disability and Human Development at the University of Illinois at Chicago
ILLINOIS ABLE WEBINAR: MANAGING YOUR IL ABLE ACCOUNT
Illinois ABLE will be hosting a webinar on Wednesday, September 9, 2020, 12:00pm – 1pm. This one-of-a-kind webinar will be specifically geared for those who own and manage – or who are about to open and manage – an IL ABLE account. Attendees with learn more about the mechanics of their accounts and will get answers to the below questions and more:
What is the difference between an Account Owner and an Authorized Individual?
What are the investment options and how do I make my selection?
What documents must I submit? What documents should I not submit?
Space is limited and Registration can be found HERE. (Contact: Beth Owens)