Critter Report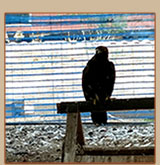 The good news - 3 Swainson's Hawks, injured and starving, were rehabilitated and released. One Red Tailed Hawk with soft tissue damage to a wing was also rehabilitated and released.
Two young Golden Eagles arrived emaciated at half of their body weight and close to death. Both have recovered, one was released on Saturday Sept 15 at the Parowan Gap Program for elementary school children and their families (about 80 people) lots of social media comments about the release. A video about this Golden Eagle and her release back to the wild will be published soon.
The second Golden Eagle has recovered, and we'll share details of that release next month!
We are providing many educational programs including one in Pahrump, Nevada to provide a program for the Audubon society.
And the bad, other arrivals included a Cooper's Hawk, Sharp Shin Hawk, Hummingbird, Great Horned Owl, Turkey Vulture and Golden Eagle. All had to be euthanized due to broken backs, dislocated and broken wings. We also had several non-native baby English House Sparrows and Asian Ring Neck Doves come in that couldn't be released. One Swainson's hawk that appeared to have rodenticide poisoning, died.