Note from our founder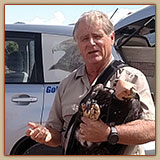 Like every small non-profit organization the Southwest Wildlife Foundation for the last 6 months has been going through some significant growing pains and we truly need everyone's help. If you've ever thought that you'd like to get involved with a wildlife rescue and wildlife educational outreach program organization we could really use everyone's help.
We currently have a need to fill positions on our board of directors. The purpose for the board of directors is to help guide the Foundation into the future while maintaining the integrity of the Founders vision to care for the sick, injured and orphaned wildlife that call southern Utah home and to support and maintain our wildlife educational outreach programs. To help in the development of the Cedar Canyon Nature Park and the development of additional wildlife educational programs.
We also have a need and please pardon the pun: "We have a need for Party Animals." The kind of people that love people. People that love to plan events like banquets, art auctions, fun runs, golf tournaments, almost any kind of event that you can think of that could be used to bring awareness to the Southwest Wildlife Foundation and help us raise the badly needed funds for our wildlife rescue and our Cedar Canyon Nature Park.
I would especially appreciate all of our friends outside of the Cedar City area to seriously consider getting involved in helping us plan fundraising events. I think everyone can agree that it will be incredibly difficult to raise the funds necessary for our wildlife rescue and the Cedar Canyon Nature Park in small town Utah. As I tell everyone, "Have eagle will travel." If you have the opportunity to plan an event, if you have social contacts with people that you believe could help the Southwest Wildlife Foundation, Scout and I are ready, willing and able to jump in the car drive wherever we need to go, to visit whomever we need to visit, to help promote the SWF and it's amazing work. Please feel free to give me a call.
Sincerely,
Martin the human perch and Scout the golden eagle.