Athletes,
We're still getting the fall sports training at OWU organized. Your IT guy was a bit distracted with getting swimming started over the weekend and this is only the third time and the second year, and the OWU folks are sorting out their students. The first sessions are this week, starting tonight.
If you have already signed up, thank you. If you have not signed up, we have 21 people signed up and there is room for 50. You can do this and one of the fall sports like bowling, soccer or swimming. If you want to participate, please complete the registration form as soon as you can.
Whether you signed up earlier, or are going to sign up as soon as you read this email, you can start this week:
Returning athletes under 21 years old, please come tonight, Tuesday, at 5:30 PM.
Returning athletes 21 years old and older, please come tonight, Tuesday, at 6:30 PM.
If you are new, please come tomorrow, Wednesday, at 5:30 PM.
If you can't make the session you should attend, come to one of the others. We won't have a Thursday time because OWU doesn't have any of their students available.
The exercise sessions will be at the Simpson/Querrey Fitness center, which is located at 105 S. Sandusky St., Delaware 43015. In the evenings, you can park anywhere. OWU suggests Science, Aquatics, Edwards Gym or Fitness buildings. OWU has an online campus map based on Google Maps.
I know this is all a bit confusing and indefinite, but we're still working out how to run this and the OWU team is VERY flexible, they are happy to have you and will do their best to make it a good experience.
Connie Warner, our local coordinator, will be at the Wednesday session.
Jim Conger
the IT guy
---
Program Description
The Special Olympics exercise groups are intended to provide safe and challenging exercise opportunities for any athlete who may be brand new or returning to a regular fitness/exercise class. The nature of movement in these classes will be specific to the needs of the athletes. It may include standing or mat-based bodyweight exercises, dumbbell, med-ball or exercise-ball work and exercise bands. We also have access to TRX bands, spin bikes, steps of varying height, and walking or running agility pattern work. Progressions and changes in the amount of work completed during sessions will be progressive but specific to the needs of each athlete.
Overall program goals are to:
Improve body composition

Increase lean body mass (muscle)
Decrease fat mass
Improve or maintain bone density

Decrease risk or help manage risk of chronic disease (ie. diabetes, hypertension, cardiovascular disease, osteoporosis, arthritis, and other diseases related to overweight and obesity),
Improve posture and resistance to injury from unexpected movements
Improve neuromuscular function to improve stable and dynamic balance
Decrease muscle imbalances due to repetitive activities or a more sedentary lifestyle for future injury prevention and long-term quality of life performing activities of daily living.
Support exercise or physical activity adherence

Create fun, challenging, and engaging workout environments
Create programming that allows all regular attendees to see results
The sessions could be held at 5:30 and/or 6:30pm on Tuesdays and Thursday evenings.
The exercise sessions would be held in the Simpson/Querrey Fitness center at Ohio Wesleyan University, which is located at 105 S. Sandusky St., Delaware 43015.
---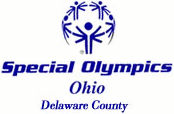 You can click to unsubscribe from our email list. If you are an athlete or help an athlete participate, you will miss future announcements if you unsubscribe.

Tell us your name, which sports interest you, and your connections to Special Olympics by updating your profile.

Please click to send to anyone we missed, which will also automatically add them to our list for future announcements.
Special Olympics Delaware County 7991 Columbus Pike Lewis Center, OH 43035 USA