Several of our swimmers asked if there was a place where they could buy t-shirts like the ones we used for the meet, so we thought it was a good idea to send another message about our new Premier Sports & Spirit Store where you can by clothes with our logo.
We have a permanent link for cloths & gear on our web site. If you don't visit our web site, you should start checking it to keep up to date! Practices, games, and events are there on our calendar. The calendar is updated with changes and cancelations, too!
Jim Conger
the IT guy
---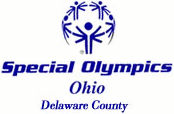 You can click to unsubscribe from our email list. If you are an athlete or help an athlete participate, you will miss future announcements if you unsubscribe.

Tell us your name, which sports interest you, and your connections to Special Olympics by updating your profile.

Please click to send to anyone we missed, which will also automatically add them to our list for future announcements.
Special Olympics Delaware County 7991 Columbus Pike Lewis Center, OH 43035 USA