Some updates for the picnic this weekend...
The picnic will be at the Harvest Hills Farm. The picnic is on this Sunday, August 26th from 4:00 PM to 7:00 PM.
Because of the large group, the staff at the farm say it would be a good idea to bring lawn chairs. According to the forms, about 100 people are coming.
If you can help, please come early at 3:00 PM. The farm staff is setting up tables and chairs, giving us some of the yard games, and doing the cleanup, but some set up help would be nice.
If you haven't decided what to bring, here's what people are bringing:
sides: broccoli salad, coleslaw, pasta salad, Watergate salad, salad and dressing, veggie tray, cheese and crackers, chicken salad, mac and cheese or a salad, strawberries, fruit bowl, fruit salsa and cinnamon tortilla chips or fruit and dip, chips and salsa

desserts: chocolate cake, cookies, dessert cassorole or fudge or cake, pies, browniews, Rice Krispie treats

games - we'll have some from the farm staff, and people are bringing bocce balls and corn hole.
The weather is going to be hot (87°F) and only a 20% chance of rain.
Looking forward to seeing everyone!
Jim Conger
IT Guy
---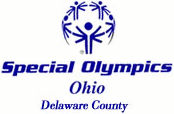 You can click to unsubscribe from our email list. If you are an athlete or help an athlete participate, you will miss future announcements if you unsubscribe.

Tell us your name, which sports interest you, and your connections to Special Olympics by updating your profile.

Please click to send to anyone we missed, which will also automatically add them to our list for future announcements.
Special Olympics Delaware County 7991 Columbus Pike Lewis Center, OH 43035 USA