Laurie Hallingsworth is working with the Delaware Gazette on an article about us. The Gazette would like to have a picture of our athletes!
Please join her for the picture if you can. They want to take it at 6:15 pm tomorrow (Wednesday the 5th). Meet them at PNC bank front lobby, 40 N. Sandusky Street, at 6:15 pm. Tony from the Delaware Gazette is going to take a picture of all athletes and Chad Heald from the Possum Run. Laurie thinks it will take no more than an hour, probably more like 30 minutes. Wear Racer gear!
While you are there, thank Chad and the Possum Run, they have made a very generous donation to SODC and we are very grateful for their support. They plan to continue their support. Please let them know we appreciate them.
Connie Warner
Local Coordinator
connie.warner@sodcoh.org
740-200-0682
---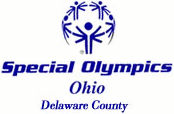 You can click to unsubscribe from our email list. If you are an athlete or help an athlete participate, you will miss future announcements if you unsubscribe.

Tell us your name, which sports interest you, and your connections to Special Olympics by updating your profile.

Please click to send to anyone we missed, which will also automatically add them to our list for future announcements.
Special Olympics Delaware County 7991 Columbus Pike Lewis Center, OH 43035 USA