A correction for the OWU sports training program: It will be Tuesdays at 5:30 or 6:30 PM or on Wednesdays at 5:30 PM as listed in the first paragraph of the message, not the days at the bottom in the description of the program.
A clarification for powerlifting: athletes need to be at least 16 years old for powerlifting.
Sorry about the mistake and ommission!
Jim Conger
the IT guy
SODCOH
---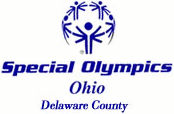 You can click to unsubscribe from our email list. If you are an athlete or help an athlete participate, you will miss future announcements if you unsubscribe.

Tell us your name, which sports interest you, and your connections to Special Olympics by updating your profile.

Please click to send to anyone we missed, which will also automatically add them to our list for future announcements.
Special Olympics Delaware County 7991 Columbus Pike Lewis Center, OH 43035 USA